A Rental Inspection is an integral part of the tenant turnover process for a rental unit.
Unfortunately many landlords skip this important process all together.  In case you don't know, tenants in California have a legal right to a pre-move out inspection, so you as the landlord must comply.  Completing this step will help you avoid any potential conflicts with your tenants with regards to the condition of the property during their turnover of the unit.
So how do I go about completing the tenant move-in / move-out inspection?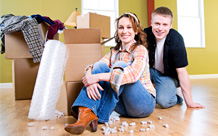 You have 2 choices, be your own DIY property inspector and do it  yourself with our free to download rental inspection checklist.  Your second option would be to hire us for an inspection of your rental home which includes a easy to read written inspection report of the condition of the property including digital photos.  Landlords: please inquire about special discounts for San Diego rental inspections - starting at $100.

If you opt to go it alone, here's what you should know about completing your inspection:
Before your rental walk-through
:  You should take the time to modify the
Rental Property Inspection
checklist we have here to make it specific to your own rental property.  Take note of any fixtures and/or appliances that are in brand new condition or those that are very high quality.  You will also want to take note of anything that is already in poor condition.
Schedule the rental walk-through with your tenant at a time that is convenient:  Walk through the entire space with your tenant room by room.  This is done once with your prior tenant and once with the new tenant.  The procedure will be  the same each time.  It's important for you to keep the whole process transparent.  It is helpful if you provide the tenant with his or her own copy of the rental inspection checklist.  This way your tenant will have the chance to discuss important questions they have with you or make note of any damage that you may have missed.
You might also wish to take photographs, especially important if your rental property is newer.  Take photos in the presence of the tenant, and include the photos as part of your final walk through inspection and rental property inspection report.
Important items to watch out for during your walk-through rental inspection:  Once you have determined that the fixtures don't appear damaged you'll want to make sure that they function properly.  Check to be sure the sinks and tubs drain properly, the appliances work, and note any damage even if it seems minor.  Pay close attention to the overall condition of your paint, flooring, carpets, woodworking, light fixtures and appliances.  Request that your tenant moving out hires a professional carpet cleaner to clean the carpets. A "Rug Doctor" in the hands of someone inexperienced can add gallons of water to the carpet, pad and sub-floor which in turn can cause permanent damage. Look for chips in the bathtub. Look for water damage under the kitchen sink. If there are pieces of furniture, buckets, cleaning cloths, etc. on the floor when doing a move-out rental inspection, be sure to look under them! They may conceal damage that your tenant would rather you not notice. For similar reasons, you will want to remove any foil that has been placed in the oven or under the cook top burners. Open and close all doors and windows, check that the frames for the window screens are not bent, work light switches and fans, and operate all appliances that belong with the property.
After you finish the walk-through, don't be especially surprised if your new tenant comes to you after moving in to mention other minor flaws that were overlooked during the initial walk through rental inspection.  If they are truly minor issues, I would recommend you take the tenant's word for it; chances are unlikely that the tenant caused the damage in the first couple of days of their tenancy.  You may want to look into it further if the claim seems shady or seems too serious to have been missed during your walk through.
Your rental inspection checklist is an important tool to ensure that you and your new tenant have a clear picture of the rental property's overall condition upon move-in.  For move-outs, you can use our rental inspection checklist to make sure your unit is returned to you in a like-condition similar to when the tenant first moved in.  Please note that normal wear and tear is an expected part of a normal tenancy that you must accept and you cannot charge your tenant for this!

Questions?  Give us a call anytime and we would be happy to discuss the rental walk-through inspection procedures with you directly.  Don't want to go it alone?  Schedule a rental inspection online or call us at (619) 663-8740.
Areas Served:

We perform rental inspections in the areas listed above as well as many other areas in San Diego County.  If you do not see your city, please contact us.  We will be proud to offer rental property inspections in your city.