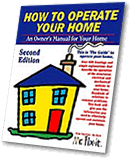 Buying a house in San Diego is one the most important decisions you will ever make.  Some questions that are often asked about home inspections are included here.

Can't I just complete A DIY, or "do it yourself" home inspection?
Most San Diego home buyers will look at a home that they want to purchase and look for reasons to purchase the home.  The prospective home buyer usually is not able to look at the home with the unbiased critical eye of a home inspector.  Even a home buyer with construction experience may not have the knowledge and tools of a home inspector.  A professional home inspector is trained and experienced to identify clues that could point to costly problems down the road.  These clues are often very subtle and hard to find.  Most home inspectors use specialized tools that help them pinpoint potential problems.  One thing you should do is download our Checklist for Home Buying in San Diego.  This should help keep you focused on the important day.

As a qualified home inspector company in San Diego, we have performed hundreds of home inspections.  We have over 20 years experience in construction and building right here in America's Finest City.  We are very familiar with problem areas of San Diego, shady builders and their developments in various suburbs (which usually results in many typical problems).  Our home inspectors are required to attend continuing education to remain at the cutting edge of our profession.  This education allows us to stay abreast of issues with certain building products and installation methodologies, product recalls, etc. and ensures the advice we offer is backed up by real data.  We don't take your purchase decision lightly.

When I decide to buy a house in San Diego, when should I call for the home inspection?
When purchasing your home you will want to have the home inspected within a few days after the purchase agreement is signed.  This next part is very important so pay attention.  You want to make sure you have a clause in your purchase agreement that allows you to have a home inspection and that you have the right to terminate the agreement if you find the home in unsatisfactory condition.  Your agent can help word this properly in your contract.  This clause should specify the terms to which both the buyer and seller are obligated.  This clause will give you the opportunity to ask the seller to make the repairs identified in the home inspection before you buy, or it will allow you to back out of the contract.  So be sure to ask for the "inspection contingency" when you begin to enter negotiations with the seller.  Further, this clause will allow you to set a limit on the cost of repairs to the home.  If the inspector estimates that repairs will cost more than your pre-set limit, the contract is voided.  It is a good way to protect yourself from ending up with a home that requires repairs that you are unable or unwilling to pay for.
Should I accompany the home inspector during the inspection?
We recommend that you are present at the home inspection.  In doing so, you will be able to take notes and ask questions during the process, which usually lasts 2-4 hours.  During the walk through of the property, the home inspector will explain valuable information about your plumbing, electrical, heating and air conditioning systems of the home which will help in your maintenance efforts as you become the new homeowner.