S
hould you be considering the purchase of an older home, lead levels may be of concern. Lead-based paints were used in many homes constructed prior to 1978. This paint does present health risks, especially for younger children. The relationship between lead exposure and various illnesses is well documented. For this reason, testing should be performed prior to making an offer on an older home.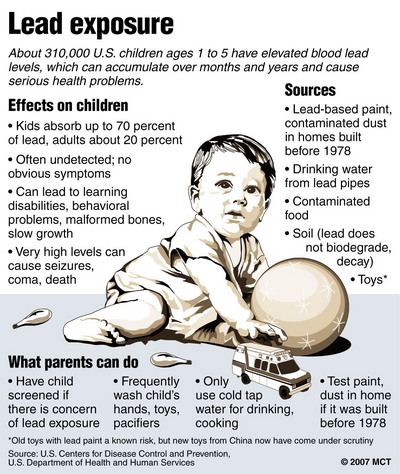 While lead is present in some older paints, it was also used in the production of various products that were used for home construction. It has been since discovered that lead is toxic, which means that it can cause health problems, learning disabilities, seizures, and even death. Those who are at the greatest risk will be children age 6 and younger.
Does the Home Have Lead?
Sellers who are aware of lead in the home are required to inform buyers of this fact. This disclosure notification is included in nearly all home contracts. There may be exceptions, however, such as in foreclosure home sales. Be sure to ask your Realtor about lead disclosure if you are considering the purchase of an older home in San Diego or elsewhere. The purchase contract should allow time for lead testing, as well as for testing of other hazardous materials. Some home inspectors may offer preliminary testing to determine whether or not lead could be present in the home.
Where Is Lead Found?
Though often found in older paint, lead can also be present in the soil around the home (usually due to past renovations), in indoor dust, and drinking water in home systems comprised of lead water pipes. Paint is often mentioned because children can breathe in the lead, may get dust on their hands and put their hands in their mouths, and may even eat the paint chips. Research has shown that children who are exposed to lead are more prone to not only learning disabilities, but many other types of health problems. Though not mentioned as often, lead found in the home's drinking water is equally dangerous.
Lead Testing
Kits are available to those who wish to perform their own testing. However, these kits are not considered to be highly reliable. Professional testing should be done in order to not only detect lead, but the levels in which it is present in the home. A professional inspection will include testing samples, determining hazardous levels, and providing possible solutions. Water, dust, and paint samples may all be taken back to a lab where they can be analyzed.
Lead Reduction
If you suspect that lead-based paint is present in your home, dust surfaces and vacuum often. Be sure your vacuum has a HEPA filter in good working order. A fresh coat of latex based paint can be applied over the lead in order to create an effective barrier. You should never strip or sand paint containing lead as doing so can release lead particles into the air. Avoid drinking water that contains lead. Purchase drinking water if necessary instead of drinking it from the tap. Some modern water filters may remove lead from water and make it safe to drink. New pipes may need to be installed in order to eliminate lead sources. On the EPA website you can find a guide to doing remodeling in a home that contains lead (see below). Also note that as of 2008, contractors are required to pass a test and be certified by the EPA regarding safe-practices and how to deal with lead based paint during renovations.
Learn more about lead in your home