T
hough the cost of solar panels has dropped over the past few years, they remain a serious investment. It is possible to select and purchase them on your own, without the need to go through a contractor or utility company. However, a great deal of consideration will need to be given to the installation process. Regardless of the amount of information and videos that cover this topic online, self-installation is not recommended in most cases.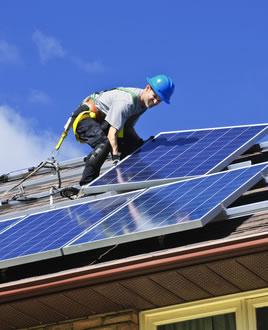 Solar panel installation most often includes roof placement. This is of course done to allow the panels to have as much access to sunlight as possible. Roof placement is also done in order to limit damage risks. There are times in which the roof is not the best choice. In these cases, other arrangements will need to be made. Free standing units are one option, but will certainly be more visible than roof units unless you are fortunate to have a hillside with a southerly direction. Your solar contractor will discuss placement options with you prior to installation.
One of the main reasons that self-installation is not recommended is that solar panels must be connected to the existing wiring system of the home. Unless you are a trained electrician, this is not something you will want to attempt on your own. Many people fail to make a connection between alternative energy sources and the actual home wiring until the time for installation is at hand. Though the energy source may be natural, the means of transporting throughout the home makes use of the existing electrical system.
In most cases, solar panel installation can be completed in very little time. The installer should explain exactly how to use the system, as well as what routine maintenance will need to be performed. Routine maintenance will include tasks such as clearing off any debris that has accumulated on the panels, and inspecting to panels to ensure that there are no cracks that would allow water in. Do note that cracks and breaks are not common, but can occur due to falling limbs or other severe weather elements.
There are a number of solar panel contractors in San Diego, as well as in other major cities throughout the United States. In most cases, free installation estimates are available. A contractor that has plenty of experience and offers a reasonable price should be a fine choice. You may also wish to consider reading online service reviews in order to determine how happy others are with the services provided by their solar contractor.