S
ome people are fortunate enough to find the home they want on the first day of shopping. Others may look at hundreds of homes before finding the home that is right for them. Some of these can quickly be ruled out, and therefore do not need a closer look. However, those that you have real interest in can be inspected by you prior to calling for the official home inspection.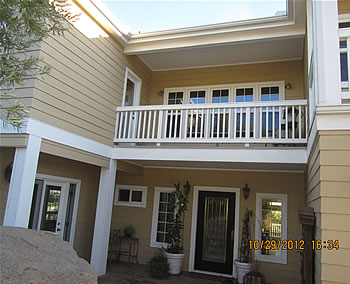 Completing your own home inspection may prevent the need to pay for multiple inspections. Should you find problems that you know will be a deal breaker, you can move on to the next home without calling for an inspection. At the very least, you can proceed with some knowledge of what to expect when the home is inspected by a professional.
When performing your own initial inspection, look for the following:
Foundation - Hairline cracks are usually not cause for alarm. However, large cracks or crumbling concrete are. Sinking footings can also be a serious red flag.
Crawl spaces - Water, rusted cast iron waste lines, tilted pillars and posts, rotted wood and rodent nests are all bad signs.
Basement - Check for water, stained walls, musty smells, visible mold and cracks in the walls. Moisture is one of the most common basement problems.
Electrical - Switch on lights, but it's advisable to allow the home inspector to handle the rest. However, you can check the number of outlets to ensure that there are enough.
Heating and Air - This is an easy test. Simply turn each on, wait a few minutes, and then check the vents. Make note of any rust on the outside fan unit, if it's accessible.
Plumbing - Run the water in sinks and tubs to see how quickly it drains. Flush toilets to ensure they are functioning properly. Note any slow or clogged drains as a topic for further investigation. If the home is older than 50 years, consider hiring a plumber for a sewer camera inspection as a home inspector will recommend one anyway once you get to that point. Guys that do sewer camera work are somewhat less expensive than a home inspector. So the strategy is, if the sewer camera inspection reveals problems you may wish to look elsewhere in your hunt for the perfect home.
Appliances - Though certainly not a deal breaker, you can check the appliances that are included in the purchase price to ensure that all are working properly.

Other items to note for your own purposes will be the condition of windows, condition of the kitchen, room sizes, and condition of the floors. It becomes quite easy to overlook smaller elements when you like a home. It can become even easier to do this when you have grown weary of the home search. While you may be telling yourself, "Pick one, already!" this line of thinking can cause problems.
Never take any risks when checking for potential problems. Additionally, do not assume that your own inspection can take the place of one that would be completed by a certified, professional home inspector with years of experience under his or her belt. Home inspectors will check the above mentioned items, but will also look at much more. A complete inspection will take several hours, and may cover elements of the home that you never even considered.