C
reating an outdoor living space will have many advantages. A patio or deck can be used for relaxing, entertaining, or in order to get the kids outside and away from the television. Though there are certainly no drawbacks to having a nice outdoor living area, there are several things to consider should you desire such as space.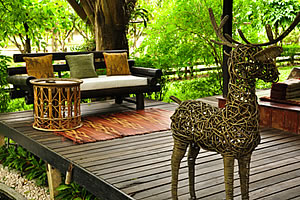 Before building your deck consider:
Cost
Available space
Which contractor to hire
Material and design aspects
The cost will of course vary, and will depend on the size, materials used, and the contractor you select. Many contractors offer free estimates. Do consider gathering three estimates at a minimum in order to make an accurate comparison. The estimate process should include measuring the space, calculating the cost of materials, and a calculation of the labor costs. Ask for these costs to be broken down individually. You should also ask if the work performed is guaranteed.
Many people assume that the contractor that offers the lowest price is the best choice. This may or may not be true. Be sure to spend some time reading online reviews about the contractor if they are available. You may also wish to ask whether the contractor is licensed and insured. Not all contractors are listed with the Better Business Bureau, but it will not hurt to look anyway. The internet now provides many tools that can be used to carefully screen contractors.
You will need to have the correct amount of open space in order to have a deck or patio installed. The contractor can help you decide on a specific size. In the case of patio installation, the ground may need to be leveled before the patio can be poured. Leveling may also be done for decks of lower heights from the ground. There may be local rules and regulations that apply to the size. If so, these will be made known to you by the contractor.
Patios are most frequent created using rock and concrete. Decks will be made of wood. You will need to decide whether or not you wish for either of these options to be left open or closed off. Screens are one choice. However, if you wish to have a space that is completely weather-proof, windows can be opted for instead. You can choose to have someone close off your outdoor living space at a later time if you wish. However, it may be more cost effective to have this done at the time of original construction.
Above all, your outdoor living space should be one that you are pleased with. There is no reason to settle for anything less, as there will be one or more contractors that can build the space you desire. So long as you consider all of the options made available to you, there should be no problems.