W
ater can wreak havoc on a home that is in need of maintenance. Small problems can quickly become major problems quickly. The cost of repairs from water damage can be extremely high. There may also be mold to contend with once water has penetrated the home. A few simple home maintenance tips may help you keep moisture where it belongs, on the outside of the home.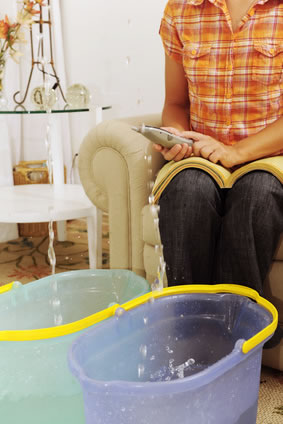 When rain falls, the first place it will make contact with your home will be the roof. The roof protects everything underneath it, and needs to be properly maintained at all times. Just a few missing shingles could allow water to pass through and cause problems. No doubt you rarely, if ever, make your way onto the roof. Even if you did, you might not know exactly what to look for. An annual roof inspection should be completed to catch problems in advance. It may be possible to have inexpensive repairs done, and these can prolong the lifespan of the roof. Just be sure to use a licensed roofing contractor as diagnosing roof leaks, and repairing them, may prove difficult for the untrained person.
Gutters and gutter downspouts should also be inspected from time to time. Gutters need to be cleaned periodically so that they can do the job they are intended to do. Should you notice that your downspouts are not directing water away from the home, consider adding an inexpensive plastic pipe to the end of the spout. This addition can be positioned so that the water leaves the spout in a desirable area, 3-4 feet from the foundation of the home.
Watch for areas in your yard that are gathering water and directing it back toward your home. Not only can this water damage the foundation, it could also cause a serious flooding issue if your home happens to be built above a crawlspace. Improperly graded driveways and patios can also cause problems. Action will need to be taken in order to put a stop to water entering the foundation or basement. A home inspector may be able to make repair recommendations, as can a licensed contractor. 
Rain is not the only source of moisture that can cause problems. One example would be the steam that escapes from taking a hot shower. Should a bathroom fan not be in place, or not be functioning properly, steam can absorb into the ceiling and walls, creating an environment where mold and mildew can happily thrive. Basements and crawl spaces need to be properly ventilated as well. Water pipes and ground water can both allow moisture to gather in the basement and eventually migrate into the surrounding walls and floor above. Any cracks in the walls, no matter how small, can allow outside moisture in. Should you not be able to determine where water in the basement is coming from, seek the advice of a qualified home inspector. But do your homework. Be sure that the person you select has knowledge in diagnosing and troubleshooting moisture-related problems. They should in the very least be a member of the International Association of Certified Indoor Air Consultants (
IAC2
).
A final consideration would be basic safety. Many accidents around the home are a direct result of water. Slips and falls can occur quickly when your feet come in contact with moisture. Consider making changes to any outdoor area that is allowing standing water. There are special products that can be applied to masonry that will render the surface less slippery. There are also products that can do the same for stairs.
Taking care of moisture related issues at your home will create a healthier and safer environment for you and your family.