M
any feel that rain will take care of the task of washing windows. In reality, the rain actually adds to the problem of dirty windows. Some dirt and pollen will be removed by a hard rain. However, what happens in most cases is the the windows become merely damp, leaving the debris to stick like glue to the window. The longer you procrastinate the washing task, the harder it will become to clean the windows.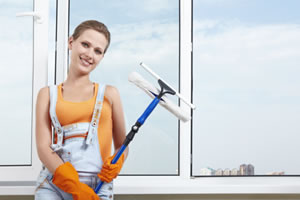 Though there is no special skill needed in order to wash home windows, there are a few tips that can make the process easier. One of the most important tips is to use the right tools and products for the job. Leave that basic glass cleaner under the sink and purchase a commercial grade glass cleaning product. Your local hardware store should carry this type of glass cleaner. Yes, it will cost more than standard cleaner, but it will also be much more effective at cutting through the dirt. Some products come in an aerosol can that makes the cleaning process that much simplier!
There are two options for reaching windows that are high up. One would be a squeegee that has an extendable handle. The other would be a ladder. The squeegee would be the safer option, as you can remain on the ground while washing. However, should you be comfortable with a ladder, feel free to use one to access high windows. There is no need to purchase rags as newspaper is a great product to produce streak-free windows (and you will be doing the environment some good in the process). Once you have assembled your tools and products, follow these steps:
Spray the window cleaning product on the glass and allow it to sit for 30 seconds or so. 
Clean each window starting at the top and working towards the bottom.
Use a circular motion when cleaning in order to avoid streaks.
After cleaning with the window cleaning product, rinse with plain water.
Completely dry each window using fresh newspaper.
Should you not see the desired results after one washing, repeat the process.
While newspaper works extremely well, you will want to replace it as it becomes wet. Wad each piece up in a loose ball in order to get the best results. Another tip is to keep track of any screens that you remove. It is best to only remove them one at a time in order to avoid any confusion. Replace each one once you are done with the window cleaning.
Though it may seem silly to pay someone to wash your windows, should the job involve cleaning windows that are high up, it may be wise to hire someone. There is no reason to take risks if you do not feel comfortable accessing high windows. The cost to hire a window washer would certainly be less than paying hospital bills should you fall and become injured. There is no shame in asking for help if you feel you need it. Now get washing!