T
here are two main differences between real wood flooring and laminate flooring. Real wood is of course, wood, while laminate is actually plastic that is made to look like wood. The other difference is price. Wood will be more expensive than laminate, regardless of the type you choose. In addition to these differences, there are several other factors to consider when deciding between the two.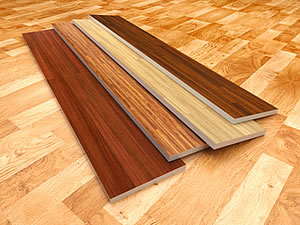 Things to consider when chosing between wood and laminate flooring
How long do you plan to live in the home?
Your budget
Type of foot traffic through the home
Return on investment
Style of the home
Should you know in advance that a move to a new home is somewhere in your future, the selection will need to be given special consideration. The expense of real wood flooring may not seem at first glance to be a wise investment if you will only be there for a short time. However, homes with wood flooring are quite desirable, and may help the home sell more quickly once the time comes to put it on the market. Ultimately, the decision will be up to you.
Your available flooring budget may also need to be considered. Laminate flooring is the more economical choice. However, if you are having difficulty accepting the less-than-real look it will not seem like much of a bargain. Before assuming that real wood is beyond your budget, price both options. You may find that real wood flooring is not much more expensive than the alternatives. If not, you may need to consider adjusting your budget. It is simply never wise to make changes within the home that you will not be happy with.
If you have children, pets, and lots of guests, your best options will either be laminate or a high quality wood flooring. Wood that is of lower quality will quickly start to show wear when subjected to a high traffic level. Though laminate may be less subject to damage than wood, it should still be of a high quality. Low quality laminate will be just as bad, if not worse, than low quality wood. Spend at least some time considering the type of traffic that the flooring will be subjected to.
A return on the investment will only need to be considered if you plan to sell the home at some point. Real hardwood floors can increase the value of the home, and will bring a return at the time of sale. Laminate flooring does little to change the value of the home unless you are switching out from a floor that is in bad condition to a new laminate version. Buyers do indeed look at flooring, so keep this in mind.
The final consideration should be the style and value of the home. If the home is more modest and not in the best of shape, wood flooring would not be the best option. Consider the overall value, as well as other existing home elements prior to making your final selection.