E
xposure to even small amounts of carbon monoxide can cause a person to become sick. Larger amounts can cause permanent damage to vital organs, and can also cause death. A CO detector is a device that can determine if unsafe levels of carbon monoxide are present in a home, business, or other location. Should abnormal levels be detected, an alarm will sound and warn everyone present that a problem exists.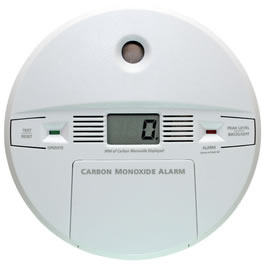 Any fuel burning appliance is capable of releasing carbon monoxide. Natural gas, oil, gasoline and propane are just a few examples of fuels that will produce CO emissions. Carbon monoxide gases have no odor, taste, or color. This is what makes them so dangerous. Exposure can be taking place without you even realizing that it is happening at first. Should you be awake during the exposure, you may start to feel dizzy, nauseous, have trouble breathing, or experience a headache. Should you experience any of these, get outside as soon as possible.
The greater purpose of the CO detector is to alert those who are sleeping that a problem exists. While asleep, you may never realize that there is a problem. The majority of the deaths reported in association with carbon monoxide exposure occur while the individuals were asleep. Unfortunately, entire families have perished in the course of one night due to exposure to this gas. There is simply no reason to take such a risk when a simple device can be used to alert your family well in advance of such a horrible outcome.
In addition to owning a carbon monoxide detector, risks can be reduced by ensuring that all of your fuel burning appliances are kept in excellent condition. Should you have limited knowledge in regard to how to accomplish this, call a professional who can help. Routine maintenance and inspection can be used to detect potential problems in advance. The detector should be used as backup, and should not take the place of caring for your appliances.
Similar to smoke detectors, many CO detectors are battery operated. Test the unit frequently to ensure that the batteries are in working condition. There is also the option to have the unit wired to the existing home electrical system. Any qualified electrician should be able to handle this task for you. Depending on the size of your home, more than one detector may be needed. Carbon monoxide detectors are quite affordable, and can be purchased in retail stores, as well as online.