A
condo inspection will be quite different from a home inspection. There are different ownership issues to consider when purchasing a condominium. It is important to understand what a condo inspection does and does not provide. It is also important to note that these inspections are just as critical to your home buying decision as single family home inspections. It is not safe to assume that just because a condo is part of a larger building complex that it is immune from problems.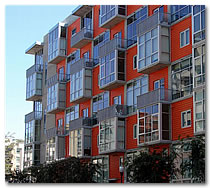 In case you're wondering, Housecall Property Inspections is very familiar with San Diego condo developments and we perform hundreds of condo inspections in San Diego each year. From downtown near Petco Park to University Heights, to the shores of Del Mar, out east to El Cajon and La Mesa, south to Chula Vista and Eastlake, we cover San Diego like no other and have certified professional condo inspectors that can skillfully inspect the condo that you are looking to purchase.
What Does One Own When Purchasing A Condo?
Many people assume that a "condo" is a structure type. What the term actually is referring to is the type of real estate ownership. When you purchase a condo, you are purchasing the interior space, and not the land it sits on, the parking space, or any amenities. These things are typically part of shared ownership, which means they belong to all condo owners collectively. Utilities are the main responsibility of the condo owner. This would include interior plumbing, electrical, and ventilation systems. In order to determine your exact responsibilities, review the rules and CC&R documents provided by your condo association.
Information Concerning Common Areas
An inspection of common areas is not typically included in a condo inspection. This would be areas such as exterior grounds or systems, common areas, or amenity spaces such as pools or laundry rooms. Additionally, the roof and structural systems such as the foundation will not be inspected, as their condition is generally the responsibility of the Home Owners Association, or HOA. It is important to find out what areas fall under the jurisdiction of the homeowner' association. This will allow you to ensure that the areas in which responsibility falls onto you can be inspected. HOA fees are paid for a reason, with these funds being allocated to repairs and maintenance on elements that are not your direct responsibility.
What A Condo Inspection Will Include
:
A condo inspection will include a check of the mechanical elements within the condo. This will include the heating and air system, vents, and duct work. Should there be attic access, the inspector will enter this space and inspect the insulation, check for pest infestations, and look for signs of moisture. The plumbing system and type will be noted and examined. A check of the plumbing will include testing faucets, toilets, looking for leaks, and looking for signs of damage from previous leaks. The electrical panel, visible wiring, lights and outlets will be examined in order to determine condition and spot potential hazards. Windows, door, walls, and flooring will also be taken into consideration.
What To Do Prior To Closing:
Take a walk around the property to see how well the homeowners' association is doing with the task of maintenance and upkeep
Request information regarding your specific responsibilities when it comes to the condition of common areas. There should be someone in charge of inspecting elements such as the roof, foundation, exterior, ventilation, and amenity areas
Public homeowners' association records can provide plenty of information. Acquire a copy of this information in order to determine any ongoing history of problems. This information will also show how the budget for common areas is being used
Know what your responsibilities and fees will be. There may be one-time special assessment fees for special projects - a roof replacement for example, as well as monthly fees that will need to be paid for ongoing maintenance and upkeep of the property
Hopefully this information has shed light on the process of condo inspection. Housecall Property Inspections offers condo inspection services in San Diego, as well as all surrounding areas. Call today to schedule your inspection, or
schedule your home inspection online
.