T
he city of El Cajon sits in a valley, and is surrounded by mountains. Incorporated in 1912, the city is home to over 100,000 people. With a land area of 14.6 square miles, El Cajon is densely populated. The popular is made up of many different ancestries, including German, Irish, English, United States, Italian, French, and more.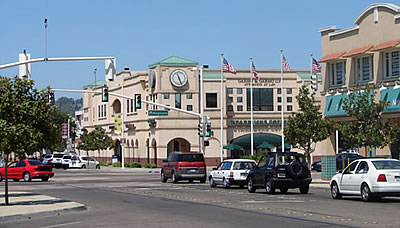 El Cajon weather is a mix of a Mediterranean and Semi-arid climate. Summers are warm and dry, with an average high temperature in the 80's. Similar to many locations, the warmest month tends to be August. Average winter lows are in the 40's. Snowfall is extremely rare, but it has occurred. The last measurable snow occurred in 1992, when 0.3 inches were recorded. The average yearly rainfall is around 12 inches, 2.66 of which come in the month of March. 
Along with nearly all of the United States, home sales in the city of El Cajon fell significantly from 2007 to 2008. Since that time levels have remained relatively stable. The median home value is over $300,000. This is less than the state average. Also less than the state average is the median household income, which is just over $40,000 per year. The cost of living is 29.6 points higher than the national average. 
The unemployment rate of El Cajon is 13.6 as of 2011. Despite this high unemployment rate, crime rates are below the national average. The most common industry for men is construction. For women, it is healthcare. The largest employer within the city is the Grossmont–Cuyamaca Community College District. Other employers to note include GKN Aerospace Chem-tronics, the city of El Cajon, Taylor Guitars, and Sears. 
There are a vast number of public and private schools within the city. There are also eight colleges, with many more located just outside the city limits. The most notable of these is San Diego State University, which has an enrollment of over 25,000 students. Within the city, Grossmont and Cuyamaca colleges have the largest enrollment.
Notable locations within the city of El Cajon include:
Cajon Speedway
Fletcher Hills Golf Course
Flying Hills Golf Range
East County Regional Center San Diego County Library
Boardwalk Amusement and Theme Park
Nine shopping centers located throughout the city
Nine public parks throughout the city
The most common method of transportation is by vehicle. However, there are a number of people who do carpool, walk, or bike. Carpooling is the second most popular means of transportation. Public transportation via bus is available. 
Earthquake activity in El Cajon, which is often a concern of California residents, comes in lower than the national average. However, it is 840% higher than the United States average. Fires and floods are the most common forms of natural disasters within the city.