T
hough the city of San Diego is home to eleven beautiful beaches, the city is much more than beaches alone. Sports, culture, dining, nightlife, and plenty of outdoor activities are also a part of the city. Those who will be visiting San Diego for the first time, or are planning a move to this city will find that there is something for everyone.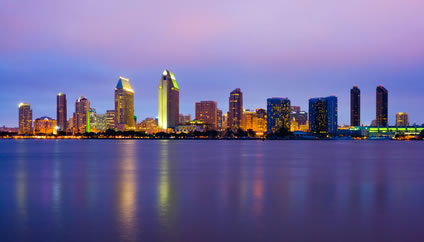 With a popular of over one million, San Diego is quite diverse. There are currently 52 Community Planning Areas, with over 100 neighborhoods. The downtown area is located along the bay. With consistent growth, the downtown skyline has become a sight to behold. The Old Town district was the original downtown area until a focus was placed on a move to the bay in order to increase trade using the waterway.
The weather in the city of San Diego can only be described as very pleasant. According to the Farmer's Almanac, the city ranks in the top ten cities with the best year round weather. The Weather Channel places it at the second best summer climate city. Year round mild temperatures are one of the reasons for these high rankings. Even during the winter months, the average high temperatures are in the mid 60's.
As of 2010, the city was ranked 9th out of the 10 safest cities to live in. Though crime rates fluctuate with time, San Diego crime rates rank well below the national average. With over 1.3 million residents, the low crime rates are quite impressive.
Millions of people visit San Diego each year. The beaches are one reason for the number of visitors. However, there are plenty of other attractions. The following are just a few of the popular attractions available:
San Diego Zoo and Safari Park
Balboa Park
Sea World San Diego
Petco Park (home stadium of the Padres)
Qualcomm Stadium (home stadium of the Chargers)
Mission Bay Park and Trails
The city of San Diego is also home to a number of museums. The San Diego Natural History Museum, Museum of Art, and Museum of Man are just three of these. Full-time residents may enjoy any of the 34 library branches. For music lovers, the San Diego Symphony performs regularly at Symphony Towers.
Up until 2006, the price of real estate in San Diego grew dramatically. The ratio of median home prices in comparison to median incomes is quite poor. As a result, the city has experienced negative migration numbers since 2004. Though the median home price in the metropolitan area is high, there are a number of neighborhoods around the city that remain affordable options and perfect for first-time buyers. 
More than 80% of residents consider the automobile to be their main mode of transportation. However, biking is also a popular option, and as such, there are plenty of bicycle routes available. Other travel options include the trolley, bus, train, and commuter rail. Airplane travel is accessible via the San Diego International Airport.